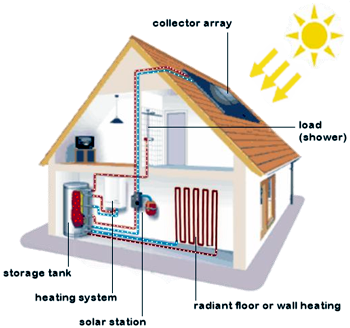 Solar Heater
Solar Heater
The use of solar energy to help heat the building is an innovation that offers savings of up to 60% on annual consumption of oil.
Our company with extensive experience in the subject has developed the Combi systems. They consist of solar collectors, a storage tank of hot water (DHW), a storage tank water heater and electronic control mechanism of water circulation.
The collector area in Combi systems arises from the size of the housing. For a 150m2 house in central Greece account for about 20m2. The energy absorbed during the day is stored with priority DHW tank to meet the need for hot water. Then take the electronic device, wherein changing the flow of collector charges the heating tank and this in turn sends the water to the radiators in the house.
The Combi systems work fine if combined with underfloor heating system. But it is equally efficient heating and fan coil type bodies or other low temperature radiators.
They are also the days with little sunshine to take the required action from wall-mounted gas boilers, biomass boilers or geothermal pumps for even greater fuel economy.
The Combi systems are sailer suitable for cottages to keep the house warm even when you're not there. For more information click here.